Obviously, my following remarks are not relevant to all Christians, not even to all fundamentalist Christians. At least, I sincerely hope not!
I stumbled across the following amusing links thanks to an icon on
Felicia Gilljam
' s
Life before death
blog.
The ever-innovative Google corporation, as suggested by its playful tinkering with its page-header logo, has a sense of humor. The following is not the best example of googlewhimsy, it merely happens to be the banner flying today.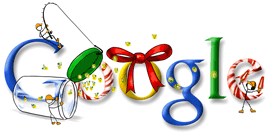 Back to Felicia's icon – it ultimately lead to this tongue-in-cheek parody.




Judging by the hate mail that Google has received over this piece of irreverent whimsy, some Jesus groupies definitely lack a sense of humor.

Here's one of the more flagrant examples of X-purulence


"HATEMAIL #12

.....IS THERE SOMETHING WRONG WITH U GUYS.......DO U SMOKE WEED OR SOME CRAP......HOW STUPID CAN U GET...LOL U JUST PROVED THAT STUPIDNESS HAS NO LIMITS.. u gay freaks how on earth can you THINK that God is google and satan is Microsoft..... you SERIOUSLY NEED A DOCTOR.....stupid lowlife COMPUTER NERDS go get a life..... i heard there sealing them at supermarkets... which are probably angels to you guy...HAHAH ROFL LOL LMAO....

From: Someone WAY smarter than you guys are..."

This mysterical twit got it wrong from beginning to end!

"Gay freaks"?
"go get a life.....i heard they're *sealing* them at supermarkets"? (emphasis mine)
Gift-wrapped lives must be on sale at this xtianist's local supermarket. Pity that they aren't installing brains at the local service station.